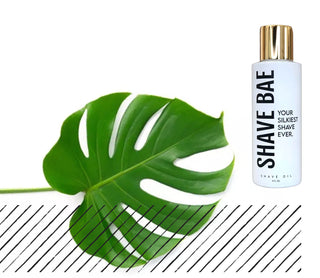 NO MORE BUMPS.
NO MORE INGROWN HAIRS.
NO MORE IRRITATION.
JUST YOUR BEST SHAVE EVER.
Old school, chemical-laden shave cream and foam just doesn't cut it anymore. Full of chemicals that can dry and irritate skin, they create a barrier that prevents the ideal, close, smooth shave.

Tired of bumps and burns from using average shaving cream, we created an all natural oil that gave us our smoothest shave ever. No ingrown hairs, bumps or burns. And better yet, we were able to shave on days where we would normally need to wait for hair to grow out without getting cuts or bumps (i.e. hoo haas!). Originally created with the bikini line in mind, we found that the oil has just as many benefits for the rest of your shave needs - even facial hair, boys!
This product is amazing! I've been using it for a few weeks now and definitely notice a difference in smoothness compared to other shaving creams. I love the scent too. My legs feel so soft and the oil helps get you the closest shave ever. I'm a fan!!
I have always struggled with razor burn and little bumps on my legs when I shave. I was neve
Shave Bae is so gentle on your skin. It leaves your skin so silky smooth… it amazing! And I never got any bumps or irritation from it.
I'll never shave without it!
OMG where had this been on all my life?! I LOVE this product! My bikini area has never been smoother and my legs have never been softer. Happy girl (and boyfriend!) over here, thank you! I'm hooked.
THERE IS NOTHING LIKE THIS ON THE MARKET! I AM SO GLAD I FOUND SHAVE BAE - NO MORE BLEEDING OR BUMPS FROM SHAVING "SENSITIVE LADY PARTS" THANK GOODNESS! SO MUCH MORE CONFIDENT IN MY BIKINIS IN THE SUMMER
OBSESSED!!! I NEVER WANT TO SHAVE 'DOWN THERE' WITHOUT IT AGAIN! CUSTOMER FOR LIFE
"IT'S THE ONLY THING THAT DOESN'T MAKE MY FACE BREAKOUT. STOKED ON IT."
I TRIED THIS ON THE WORST POSSIBLE DAY - I RE-SHAVED MY 'V' ONLY ONE DAY AFTER I DID THE PREVIOUS DAY... I SHOULD HAVE HAD BLEEDING AND BUMPS!! INSTEAD, IT'S SOOO SMOOTH, NOT ONE IRRITATION, NO BLOOD, NO BUMPS, JUST SOFT BABY SKIN. OMG SO HAPPY.

AND THE SMELL - SOOO GOOD!!!"